MU-400VⅡ 123rd Anniversary promotion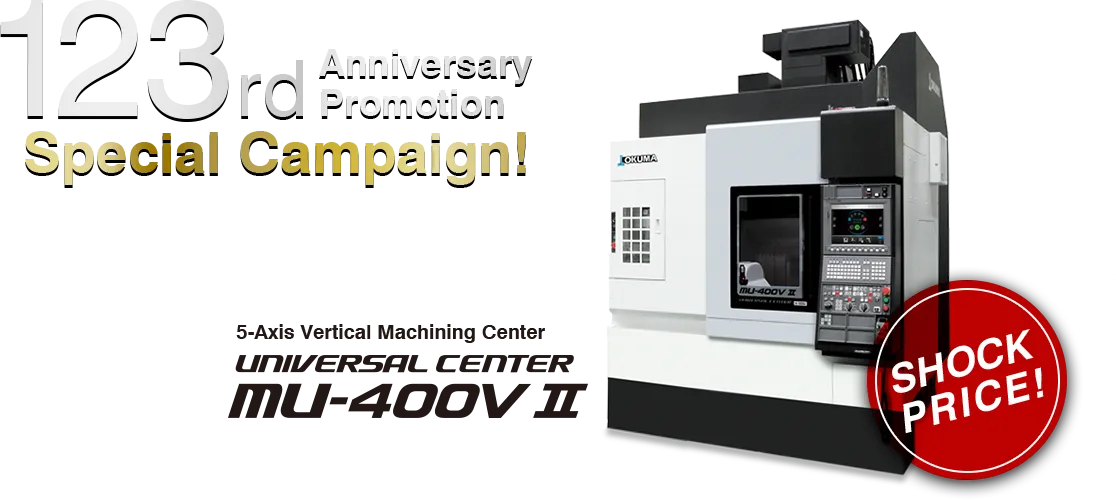 Don't Miss! Okuma's 123th Anniversary Special Promotion
With a promotion for MU-400V II
A popular 5-axis vertical machining center with sales over 1,200 units.
Okuma Exclusive Campaign for Southeast Asia Region
The simultaneous 5-axis kit (option) is included in the 123th Anniversary kit
Get the 123th Anniversary special package price!
This special promotion is valid on today until 31 December 2021
For more information, please call 02-2322-2445
【Promotion spec】
・Spindle speed 15,000min-1 / BBT40
・ATC-MG 32 tools
・Simultaneus 5-axis kit
・Auto tool length offset (Touch sensor / Metrol)
-promotion special site
-Youtube
CAD / CAM selection is also required for early start-up of production.
Therefore, Okuma will support the early production start-up of customers in cooperation with the CUBIC PARTNERS.
Only customers who have considered MU-400VII will be able to cooperate at a special price to CAM TOOL, HEXAGON, and Mastercam.
For more information, please contact as following
- CAM TOOL
- HEXAGON
- Mastercam
Okuma and CUBIC PARTNERS will continue to make various efforts to contribute to the improvement of customers' production.