GALLEA Series. Special Shape Tool for Higher Efficiency of Mold Machining
GALLEA
Eyes opening to the advanced technology of tool designing from MOLDINO.
GF1, GF2T
The Barrel shape Tool that is reducing big finishing machine time.
This tool can create a larger pitch that can incredibly improve efficiency.
Achieves highly efficient finishing of inclined wall surfaces
Develop large diameter series
Economical 2-corner specification
Do not miss the chance to prove its performance.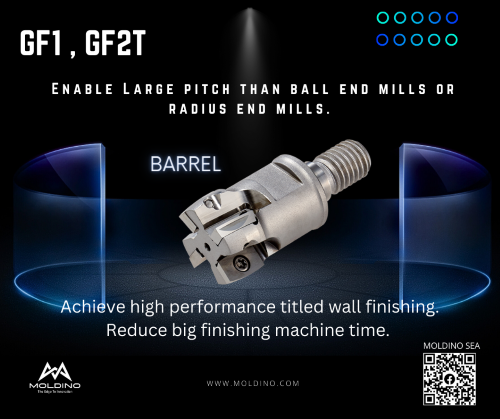 GF3L
GF3L for high-efficiency processes from semi-finishing and finishing.
With the positive sharpness tool geometry helps generate a better surface finish.
Positive design with good sharpness
Highly efficient 3-flute specification
Employs an economical 3-corner insert
Unique insert restraining surface realizes strong insert clamping
Supports center through coolant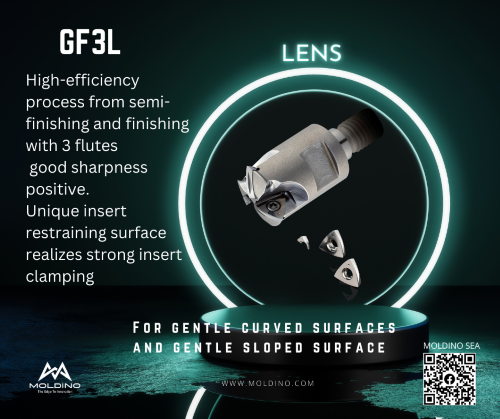 GP1T
Taper Barrel Shape tool GP1T !! Applicable for 2 processes.
Two types of cutting edges can be used with one tool by taper-shaped barrel R and ball-shaped tip
Since two types of cutting edges can be used without changing tools, it is difficult for machining steps
to occur due to tool changes.
Can be attached to Alpha Ball Precision F "ABPF type" holder
Newly developed "TH3" and "PN" coatings provide longer life than conventional products.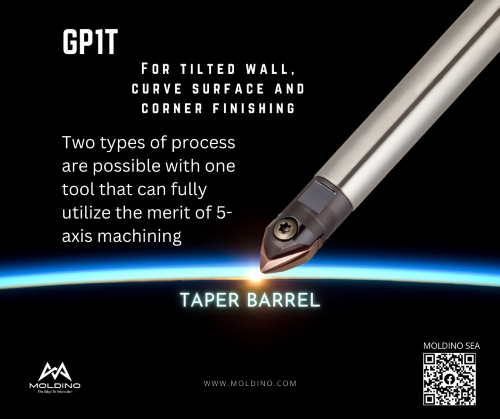 GP1LB
The Special Shape Tool for 3 Axis and 5 Axis machining.
Get better efficiency with a bigger cusp or even smoother surface compared to a normal ball-shaped tool.
Cusp height is halved compared to the ball Endmill
Added an insert with a large connecting R edge that is easy to use on a 3-axis machine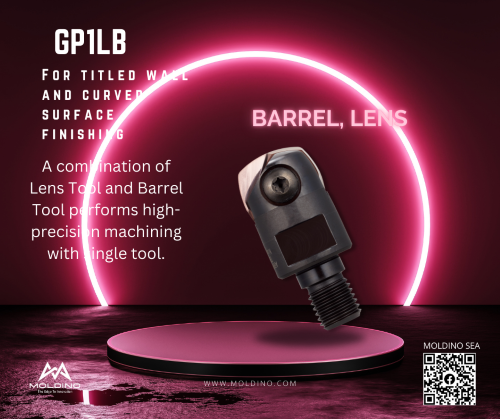 The Barrel R shape helps to get high-quality machining for the titled section.
Low cutting force by the unique helix shape.
Seamless machining from tip to body
High-efficiency, high-quality processing of sloped surfaces with the barrel R blade on the periphery
High-quality processing of connecting surfaces of curved surfaces with tip R blade
Adopts a unique strong helix blade shape to achieve low resistance
Newly developed TH3 coating is adopted to achieve even longer life.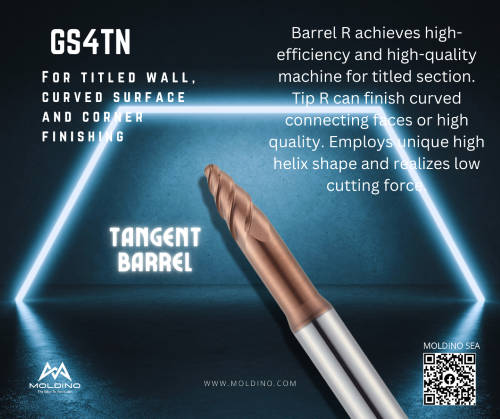 //////////////////////////////////////////////////////////////////////////////////////////////////////////////////////////

Website: www.moldino.com
Youtube: MOLDINO Tool Engineering
Facebook: MOLDINO SEA, @moldinoTool